---
---
Are there any additional charges other than the prices
stated on the individual cottage web pages?



On the cottage web pages, the base price is stated near the top and or bottom of each page. In addition to this price, there is a $100. non-refundable booking fee plus applicable taxes and a $500.00 refundable security deposit if there was no damage, long distance phone or satellite charges, garbage left behind or extraordinary cleaning needed, in which case, the charges to rectify the situation would be deducted from your security deposit.
What about the Haliburton County water draw down ?
Throughout our web site we address and attempt to describe as best we can the issue of beaches at various properties within our cottage selection. For the most part, Haliburton County is a rocky area and subsequently most of the shorelines at our cottages are rocky but there are pockets of sandy shorelines throughout the county. However, the extent of beach or sandy bottom is dependent on a number of factors, not the least being the fact that Haliburton County is the watershed for the Trent Water System. By federal law since 1903, if the Trent Water System needs water, the Ministry of Natural Resources removes some logs in the dams of the major lakes in Haliburton County and water flows to the Trent Canal. When these logs are removed from the dams, the water levels go down in our lakes and depending on the time of year, beaches appear or become bigger than they were before the draw down. If the weather has been inclement during the spring and early summer, there is a good chance that water was not needed in the Trent System and as such there may be more water and less beach than you expected at your cottage. The bottom line is that it is very difficult to predict when the draw down will occur and difficult to predict the amount of the draw down. In a normal year, the draw down starts to occur in the latter part of July and will continue through August and September. We ask for your understanding concerning the shoreline at the cottage you have rented.
Once you have chosen a cottage from our inventory, send us an e-mail from our web site and tell us which cottage you wish to reserve, the dates you wish to reserve the cottage and supply the email address you wish us to use to send your booking application. Also indicate who we should send the application to indicating if the fax number is at your home or office. When you receive the booking application, simply fill in the blanks and return to our office by return fax.

The cost of renting a cottage through the agency which is itemized on your booking application includes the base rental rate and a booking fee of $100 plus applicable taxes.
If you plan to pay for your cottage by credit card, the booking application will have a provision for your credit card number and authorization. We will then use your credit card to pay your initial deposit which is half the base rental amount plus the booking fee and applicable taxes. This deposit will hold the cottage you have chosen in your name for the dates of your vacation. Within 2 weeks of sending back your booking application, you will receive a confirmation package. Unless specified otherwise by you, your credit card will be used again to pay the remaining balance four (4) weeks prior to your arrival. At that time you will receive your final confirmation package.

If you plan to pay for your cottage by cheque, we ask that a cheque for one half of the rental amount plus the booking fee and applicable taxes be forwarded as soon as possible. When the deposit has been received, your reservation will be confirmed. The remaining balance is due four (4) weeks prior to your arrival, together with a separate cheque in the amount of $500 which represents your security deposit. The security deposit cheque is not cashed unless needed and is returned to you approximately 45 days following your departure providing there are no additional charges incurred during your stay at the cottage. When the balance of the rental fee has been received, your final confirmation package will be sent to you immediately.


If you are paying for your cottage by credit card, your booking application will read as follows .....

" This signed contract also authorizes The Rental Agency to debit the renter's credit card for any costs incurred by the Cottage Owner or The Rental Agency relating to damages by the renter, excessive cleaning requirements, loss of dump card or key, long distance telephone charges or other costs ( to a maximum of $500 ) not covered in the rental agreement relating to occupancy of the cottage and use of any recreational equipment."

In essence, with a credit card purchase, we have done away with the security deposit but by signing your booking application, you now understand that you are still responsible for costs incurred up to $500 per the above statement. When you rent a cottage from this agency, we ensure that the cottage is clean, organized and ready for occupancy before you arrive. Our field staff or owners check the cottage before your arrival to ensure that everything is in order.

On the other hand, if you are paying for your cottage by cheque, we ask that you also submit a separate cheque in the amount of $500 as security deposit and this cheque will be returned to you within 45 days of departing the accommodation if there were no damages by you or your group, excessive cleaning requirements, loss of dump card or key, long distance telephone charges or other costs ( to a maximum of $500 ) not covered in the rental agreement relating to occupancy of the cottage and use of any recreational equipment.
The deposit is kept for 45 days which gives the owner of the cottage time to receive his or her telephone bill and to notify this agency of any long distance charges during your stay at the cottage. Any long distance charges are deducted from your security deposit. You are asked to please use your calling card when making long distance calls.
When you arrive at the cottage you will find a dump card or landfill permit which you will need when you take your garbage to the local garbage dump. If you lose this card, $25 will be deducted from your security deposit which is the cost of a new landfill card at the local municipal office. If you lose the key to your cottage, you will be charged $10 plus delivery charge for having a new key made and taken to the cottage.

You are expected to return the cottage in the same condition you get it in.

After your departure, our field staff or the owner checks the cottage again before the next renter arrives and if the cottage needs cleaning after your use or repairs have to be made, the cottage will be cleaned and the repairs done and cost of that cleaning and those repairs if needed, to a maximum of $500 will be charged to your credit card or debited from your security deposit. A full accounting of these charges will be forwarded to you by email.

If you or someone in your group inadvertently breaks something, you are asked to please notify this agency out of courtesy to the owner and/or next renters. If garbage is left behind, you will be charged $5.00 per bag plus delivery charge for removal of this garbage to the local land fill site.
Where do I get the keys and directions to the cottage?

Unless you are told otherwise, all cottages within the WRD Cottage Rental inventory have a lock box attached to the door of the cottage. You will receive a map to the cottage and the code to open this lock box before your vacation. All you do when you arrive at the cottage is locate the lock box, punch in the code provided for your cottage, open the lock box, open the cottage door with the key from the lock box, return the key to the lock box and secure the lock box until the next time you need to open the door. When your vacation is over, ensure that the key is in the lock box and ensure that the lock box is indeed locked. When you first arrive at the cottage you will find your Household Rules and Information which will tell you everything you need to know about the cottage and where things can be found in the cottage.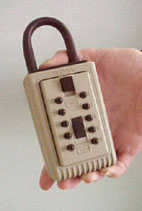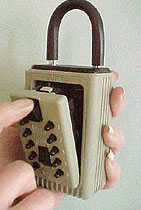 To open your lock box, simply punch in the numerical code for your lock box and then slide the top button down and towards you.
To close the lock box again, simply punch in your code again, slide the top button down again and replace the face plate to the original position.
The second button in the middle of the face plate is a "clear" button in case you make a mistake in entering your code.
If you have any questions with regards to the operation of the
lock box, don't hesitate to contact us directly.
Can we bring our pet to the cottage?
If you have chosen a cottage which allows pets, yes by all means bring your pet. If your cottage information sheet which you received with your confirmation states that pets are not permitted then we are sorry but your pet or the pet of any guest will not be welcome.
If you are staying in a pet friendly cottage, you are asked to keep your pet on the property at all times and that the pet is not to be left alone at the cottage while you are not there. If your pet likes to bark, we ask that you keep the barking to a minimum while the pet is at the cottage.
The woods and forests around your cottage are inhabited by animals which could harm your dog such as bears, porcupines, skunks and frogs. It's a good idea and just common sense to keep your pet close by
at all times.
You are expected to bring your own sheets, pillow cases, towels, facecloths and life jackets (see below). Blankets and pillows will be at the cottage when you arrive. Other than your food and your own consumables, everything else is pretty well supplied by the owner of the cottage. You can certainly bring your food from the city if you wish but there are good food stores in the area for your convenience. Most cottage owners supply some spices and some toilet paper to get you started but you are asked out of courtesy to the owners or the next renters to replace these essentials before you leave.
You should also bring your own PFD's (personal flotation devices) better known as life jackets. Every person in a boat of any kind in Ontario is required to have a life jacket. Life jackets are a very personal thing and you should go to a store where someone will help you to choose the right kind of life jacket and have it fitted properly. The owners of our cottages are instructed to NOT provide life jackets for renters as it is virtually impossible for the owner of the cottage to stock enough life jackets to fit all sizes of renters. Failure to have a life jacket while in a boat in Ontario could result in a heavy fine. Our waterways are now consistently patrolled by the Marine Division of the Ontario Provincial Police.

In addition, every boat that leaves shore should be equipped with a bailer, a 15 meter floating rope, a waterproof flashlight and waterproof whistle. At the beginning of the rental season, our owners ensure that this equipment is supplied for each watercraft at the cottage. If this equipment is missing. it is up to you to ensure that these articles are in your watercraft before leaving the dock or shore to satisfy Ontario Safe Boating Regulations. This equipment can be purchased at any marina in the area. Once again, failure to have this equipment on board could result in a fine.
Please Note - Portable hot tubs are not permitted at any of our rental properties without the expressed written permission of WRD Cottage Rental Agency.
First of all, this agency is contracted by the owners of the cottages to find suitable renters for their cottage. In other words, we work hard to fulfill the expectations of the owners. The owners indicate to the agency the maximum allowable number of renters at any given cottage. This is most important and is usually based on the capabilities of the septic system at that particular cottage. Unlike your home in the city, all waste from the toilets and the sinks remains on the property and exits the cottage into an elaborate maze of tanks and pipes under the ground around the cottage. This septic system is usually designed to service the number of people that the cottage can sleep. If too much waste is forced through the system, the system will back up and a plumber will be needed to rectify the situation. Believe us when we say, "You do not want septic problems during your vacation." The septic system is very sensitive to what it is expected to handle. Renters should only put single ply toilet paper in the septic system and care should be taken to only flush the toilets when absolutely necessary.

Sanitary napkins, wipes, paper towels, grease or cigarette butts should never,
never be put down the toilet. These items are sure to plug the system.

Like the septic system, care should be taken with the use of water at the cottage. The water used at the cottage will either come from a well or will be pumped from the lake. Be conservative with the use of water regardless of where it comes from. Do not take a lot of showers back to back. Do not take showers while doing the laundry or the dishes. Take short showers rather than baths which consume a lot of water, Give the pumping system time to replenish the amount of water available. All of these factors help to determine the maximum allowable number of people permitted at the cottage.

This agency will not tolerate renters who exceed the maximum allowable numbers at the cottage. We also ask that you limit day visitors to your cottage to a maximum number of 3 people. In other words if your cottage allows 6 renters, then you should never have more than 6 renters overnight and 3 guests during the day for a total 9 people on the property at any one time. The owners of the neighboring properties are asked by the owners of your cottage to keep an eye on the comings and goings at the cottage. If your neighbor sees things happening which are against the terms and conditions of your rental, or that there is excessive noise, your neighbor is instructed to call the rental agency. We in turn will visit the property to determine the problem.

Your understanding and consideration of these factors will be greatly appreciated.
Back to Top


If for some reason there is a need to visit our offices in Haliburton Village,
here are directions from both East and West Toronto.
From West Toronto
Proceed east on Hwy. 401 past Pearson Airport to Hwy. 400. Go north on Hwy. 400 to Barrie. Stay on Hwy. 400 through Barrie and on the north side of Barrie, Hwy. 400 will automatically turn into Hwy. 11 North. Stay on Hwy. 11 North past Orillia and onto the Gravenhurst / Bracebridge area. In the Bracebridge area you will come to Hwy. 118 and the first mention of Haliburton. Turn right or east on Hwy. 118. You are now 45 minutes from Haliburton Village. Proceed along Hwy. 118, cross over Hwy. 35 and on to Haliburton. When you reach the Village of Haliburton, we are at #83 just past Emmerson Lumber and beside Bruce's Barber Shop.
From East Toronto
Take Hwy. 401 or the Don Valley Parkway to Hwy. 404 North and proceed to Newmarket. Exit at Davis Drive, turn right or east on Davis Drive and proceed to Hwy. 48. Turn left onto Hwy. 48. Follow Hwy. 48 which makes several turns so watch for the signs and eventually you will come to the end of Hwy. 48 in the Village of Coboconk at Hwy. 35. Turn left or north on Hwy. 35 and drive to Minden. Before Minden you will come to a sign for Hwy. 121 Kinmount, DO NOT TAKE THIS ROAD. You are looking for CR 21 Haliburton which is off of Hwy. 35 just north of Minden. Turn right onto this CR 21 and follow for 24 km to Haliburton Village. Once in the Village of Haliburton, proceed to the 3rd traffic light at Hwy 118 and turn left. We are 100 meters on your right at #83 beside Bruce's Barber Shop just past the entrance to a Plaza on your right.
Back to Top
Where can I rent a boat in the area?
Due to circumstances beyond the control of this rental agency, a motorized watercraft may be left at the dock of the cottage you are renting. Please note that this motorized watercraft is NOT part of the rental of the cottage and in no way should be used by the renter.
If you wish to rent a motorized watercraft, there are several marinas in the Haliburton Highlands who rent watercraft, supply fuel, do maintenance and provide snowmobile supplies.
Big Hawk Landing (Big Hawk) - 705-489-2429

Harper Marina (Lake Kashagawigamog) - 705-457-2282

Fort Irwin Marine (Haliburton Lake) - 705-754-4176

Fenelon Falls Marine (Cameron Lake) - 705-887-4022

Kennisis Lake Marina - 705-754-2352

Kushog Lake Marine - 705-489-2628

R.P.M. Marina (Grass Lake - Haliburton) - 705-457-1473

Wedgewood Marina (12 Mile Lake) - 705-489-2320

Mountain Trout House (Kawagama Lake) - 705-766-2292

Old Mill Marina (Kawagama Lake) - 705-766-2214

Riverview Marina - Pigeon Lake Bobcaygeon - 705-799-5837

If you are confused about licenses needed to operate a motorized boat in Ontario, visit the following web site for all the information needed.
http://www.boaterexam.com/?id=301
Back to Top
What kinds of wildlife might I see in the Haliburton Highlands?
The Haliburton Highlands is home to many more animals than there are people. We are visiting their home and as such we need to pay a healthy respect for the animals which inhabit our forests. During any given day around your cottage you may see deer, moose, bear, fox, wolves, porcupines, skunks, raccoons, chipmunks, groundhogs, mice and hundreds of species of birds.

Please do not feed the animals and by all means, ensure that your garbage is in a secure container if you put it outside overnight.

If not, you will be picking up garbage from one end of your rental property to the next in the morning.

In our lakes there are bass, trout, muskie, pike, walleye, pickerel, whitefish and splake. Hunting is permitted in season and fishing is one of the favorite pastimes in the north country. If you do fish, we encourage "catch and release". Permits are required for both hunting and fishing and these permits are available at several locations within the Highlands. So while you are in the Highlands, be kind to our animals. They are a precious resource and a joy for all to see.

Back to Top


Where can I find information on hiking, biking, golf,
skiing and snowmobiling and other attractions?
There is lots to see and do in the Haliburton Highlands and information is readily available through the following organizations or web sites and phone numbers.
Golf Courses
Beaverbrook Golf Course - 705-286-1378
Blairhampton Golf Club - 705-286-1315
Haliburton Highlands Golf Course - 705-457-2233

Lakeside Golf Club - 705-754-2110

PineStone Golf & Conference Resort - 800-461-0357


Haliburton County Nordic Trails Association - 800-461-7677 www.skihaliburton.com
Haliburton County Snowmobile Association - 705-457-4263 www.hcsa.on.ca/
Haliburton County Studio Tour - 800-461-7677 www.haliburtonstudiotour.on.ca
Haliburton Forest and Wild Life Reserve - 705-754-2198 www.haliburtonforest.com
Haliburton Highlands Chamber of Commerce - 800-461-7677 www.haliburtonhighlandschamber.on.ca
Haliburton Highlands Trails and Tours - 800-766-2451
Leslie M. Frost Natural Resources Centre - 705-766-2451
Moose Woods Trail Centre - 705-754-4976
Sir Sam's Ski Resort - 800-361-2188 www.sirsamsinn.com
Sir Sandford Fleming College - 705-457-1680 www.flemingc.on.ca/programs/hsfa
Winter Dance Dog Sled Tours - 705-457-5281 www.winterdance.com
Back to Top
---
Frequently Asked Questions WRD Cottage Rental Agency
Copyright © 2010 [WRD Cottage Rental Agency]. All rights reserved.
Revised: 2013